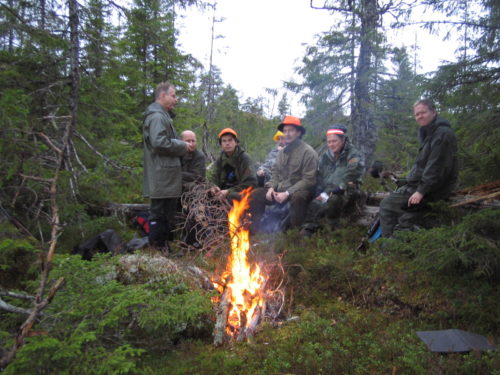 Collett Lodge is the perfect spot for enjoying outdoor life. In addition to hunting and fishing there are vast areas to the east of the farm with both natural and cultivated forest and mountains raising ut to 500 meter above sea level or more. One can literary start hiking from the front yard of the farm, and within a 10 minutes walk be completely on your own out of sight from people and houses and cars.
In spring when the air is very clear you can walk up on one of the highest mountains and enjoy the view of the Atlantic ocean getting a glimps  of the small islands at a far distance, and if you
remember to bring your binoculars you can also see the small ancient villages where families of the fishermen used to live in the old days.
In summer the forest bed will be green with herbs and flowers, and by the end of August wild berries and mushroom is there to be picked. – Outdoor life is at its best when you can share to your experiences with friends or other people, may be around the camp fire when having your outdoor lunch.
At Collett Lodge you will find a small booklet giving a brief introduction to the possibilities of outdoor life in the area surrounding the farm. This booklet contains both maps showing were to go, and also a lot of pictures for the different paths.