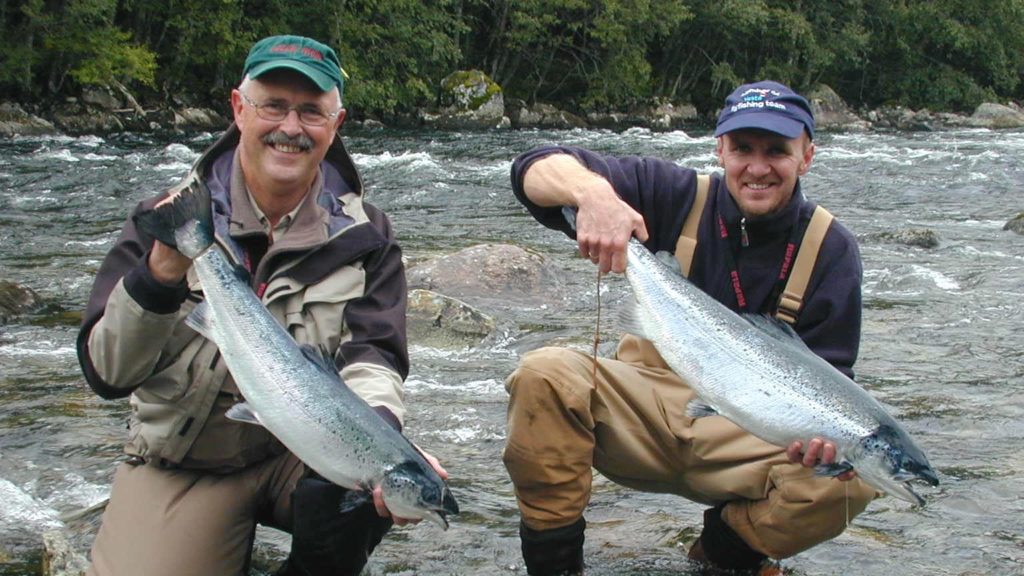 Guests staying at Collett Lodge in the salmon fishing season (from 01.06 until 31.08) also dispose the salmon fishing in the Mo River only a 10 minutes walk from the farm.
Mo River is a short river of 1.1 km, connecting the big lake Salsvann to the fjord. Lake Salsvann is the defining element of the watercourse. Lying 9 meters above sea level, with a depth of 478 meters, it is the second deepest lake in northern Europe.
The influence of the lake results in a stable water flow in the Mo River throughout the season. Flow at the outlet of the watercourse is on average 23 cubic meters per second. Even during periods of heavy rainfall, increases in water levels are usually moderate and there is always sufficient water in the river for fishing, even during dry spells.
Lake Salsvann also controls the temperature in the river, rising from 4-6 degrees C in June to 8-15 degrees in August. However, the temperature may vary due to changes in wind conditions influencing on the movement in the surface layer of water in the lake.
The river has 15 pools, each are carefully described and mapped. Mo River usually holds 6 – 8 rods. Prime time is from June to the end of August.
Although most of the catch is grilse, several salmon of 7 kg or more are caught every year. In addition to salmon there are considerable numbers of sea trout in the Mo River. Most of the trout are relatively small, between 0,5 and 1,5 kg. However, the biggest sea trout ever caught in the river is 7 kg.
For guests staying at Mo Farm fishing periods run from Sunday at 13.00 hours until the following Saturday at 12.00 hours.
The southern riverbank is the most accessible part of the river for guests. A wide path has been made and benches are placed along the river bank. Overgrown areas in the vicinity of the pools are kept clear to avoid problems when casting.
The annual catch is between 200 and 300 fish (salmon and trout), and almost every year the largest salmon will be a 20 pounder or more. The Lodge has god some fishing gear and a guide to let for those that want some assistance.