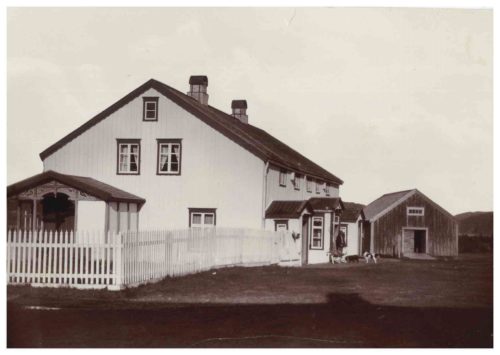 The first written historical record of Mo Farm is a diploma dating around 1326. The document describes the settlement of a dispute between Paal Paalson in Trondheim, his mother Brynhild and one Erik of Moe, concerning the ownership of several estates. The terms of the settlement rendered Erik the rightful owner of Mo, and thereby the first known freeholder of Mo Farm in Fosnes.
Mo Farm is also mentioned in  Alsak Bolts «Jordebok» written in the 1430's giving a description of the farm and what should be the annual tax to be paid to the Arch Bishop at the cathedral in Trondheim – indicating that the farm was one of the largest estates in the county.
In the year 1696 the annual payable tax was set to be «3 spann 6 marklag», the old way of defining the size of the tax.
The ownership to the farm changed many times before Mr. Bjerke and Mr. Heyerdahl bought the estate in 1859 in order to erect a sawmill in the Mo River. The mill was in operation from 1860.
The existing main building at Mo Farm – the Collet Lodge – was build in 1861 and 1862 for use by the administration of the new saw mill. The production of sawn wooden materials was, however, not commercially successful, and hence the mill was closed down in 1871. After the close down of the mill the buildings at the farm was not in regular use until the Englishmen appeared in this part of the Namdalen district in the 1880's.
In 1891 Sir Henry Pottinger signed a long term contract leasing  Mo Farm and all hunting and fishing rights on the entire estate comprising something like 150.000 acres. From the correspondence with the late Mr. Colletts local manager we learn that the main farmhouse was probably refurbished around 1890.
Sir Henry Pottinger was leasing the main farm building at Mo and all the hunting and fishing on the estate comprising approximately 150.000 acres to the east and north of Salsnes from 1891 until 1905. This is the time in history when English guests staying at the farm hunting and fishing start naming the Mo Farm as Collett Lodge.